Police Sergeant Towell, police dog Maija and Police Constable Hunt
Cellmark's Forensic Dog DNA Database and DNA Protected service was launched at Gloucestershire Police headquarters on 23 June 2021 to help combat the growing problem of dog theft.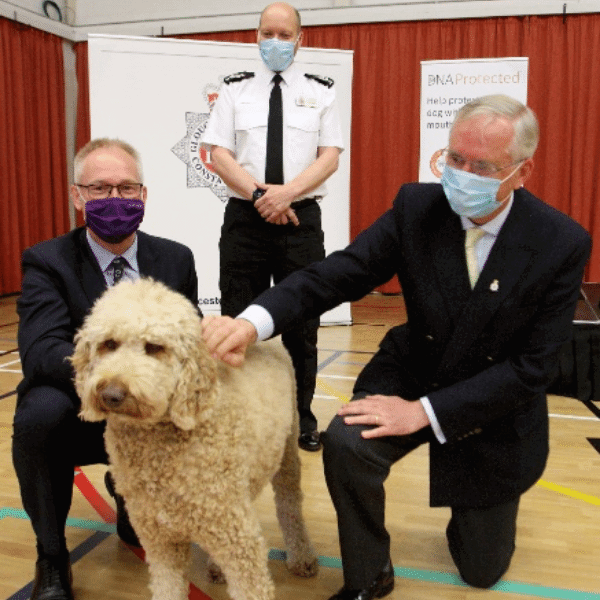 PCC Chris Nelson, who is an active campaigner to stamp out dog theft, said: "As a dog owner, I know how they are the focus of many families.  Losing your pet at any time is heart-breaking but to do so in such a callous manner, without knowing what's happened to them, must be unbearable and is why I fully support this innovative way of protecting our pets."
At the launch, mouth swab samples were taken from Maija, one of the police dogs, to demonstrate how easy it is to take a dog's DNA sample.  "All of our police dogs have been DNA profiled and given new DNA Protected Velcro patches for their harnesses which shows our confidence in the scheme", explained Chief Inspector Emma MacDonald, the OPCC and Constabulary liaison for dog theft.
Chris Allen, Gloucestershire Constabulary's Head of Forensic Services who has worked closely with Cellmark on the Forensic Dog DNA database said:
I am confident that DNA Protected will greatly assist police in reducing the heart-breaking crime of dog theft and reuniting pets with their owners
The launch event attracted significant press coverage both locally and nationally.  This has resulted in orders for sampling kits from people all over the UK who are keen to register their dog's DNA on the Forensic Dog DNA Database.  Dog theft, of course, is not restricted by geographical boundaries and so an important strength of the DNA Protected scheme is Cellmark's experience of providing forensic services to police forces across the UK, so that police investigations in every force can benefit from the database.
This means that the DNA Protected service can be used to combat dog theft wherever it occurs and can help the police to identify and return stolen dogs wherever they are recovered.